Book Sign
222 Out-of-Work Books
Group 3
MUST Sign In-Person at a Local 222 Union Hall
Must Return between the 10th and 16th of EVERY MONTH to re-sign
222 Main Hall
222 South Hall
Puerto Rico
17846 N US Hwy 441
Reddick, Florida 32686
352-591-3332
11069 FL-80
Moore Haven, Florida 33471
Call for Appt: 786-445-7114

Outlets at Route 66
18400 Autop Roberto Sánchez Vilella
Canóvanas, PR 00729
787-957-9252
Group 2

Visit the Local 222 Hall in person OR have your home Local send us a Letter of Introduction (e-mail to dispatch@ibew222.org or fax 352-591-3270)




Have another Letter of Introduction sent to re-sign between the 10th and 16th of every month
Group 1




E-mail dispatch as soon as you are out of work




E-mail AGAIN to re-sign between the 10th and 16th of every month
Local 222 Jobs Board
Visit the Job Announcements page of our website www.ibew222.org every weeknight after 4:30pm See a job you want? Click the APPLY button and fill in your contact information. Applications close at 9:00am. If you get the job the dispatcher will call you!
---
222 Libros Sin Trabajo
Grupo 3
DEBE firmar en persona en un Local 222 Unión Hall
Debe Regresar entre los días 10 y 16 de TODOS LOS MESES
Puerto Rico
Salón Sur
Sala Principal

Estará en el Outlet a Route 66
18400 Autop Roberto Sánchez Vilella Canóvanas, PR 00729
787-957-9252

11069 FL-80
Moore Haven, Florida 33471
Llame para cita: 786-445-7114
17846 N US Hwy 441
Reddick, Florida 32686 352-591-3332
Grupo 2
Visite el Local 222 Hall en persona O pídale a su local de origen nos envie una carta de presentación (correo electrónico a dispatch@ibew222.org o fax 352-591-3270)




Haga que se envie otra carta de presentación entre los 10 y 16 de cada mes
Grupo 1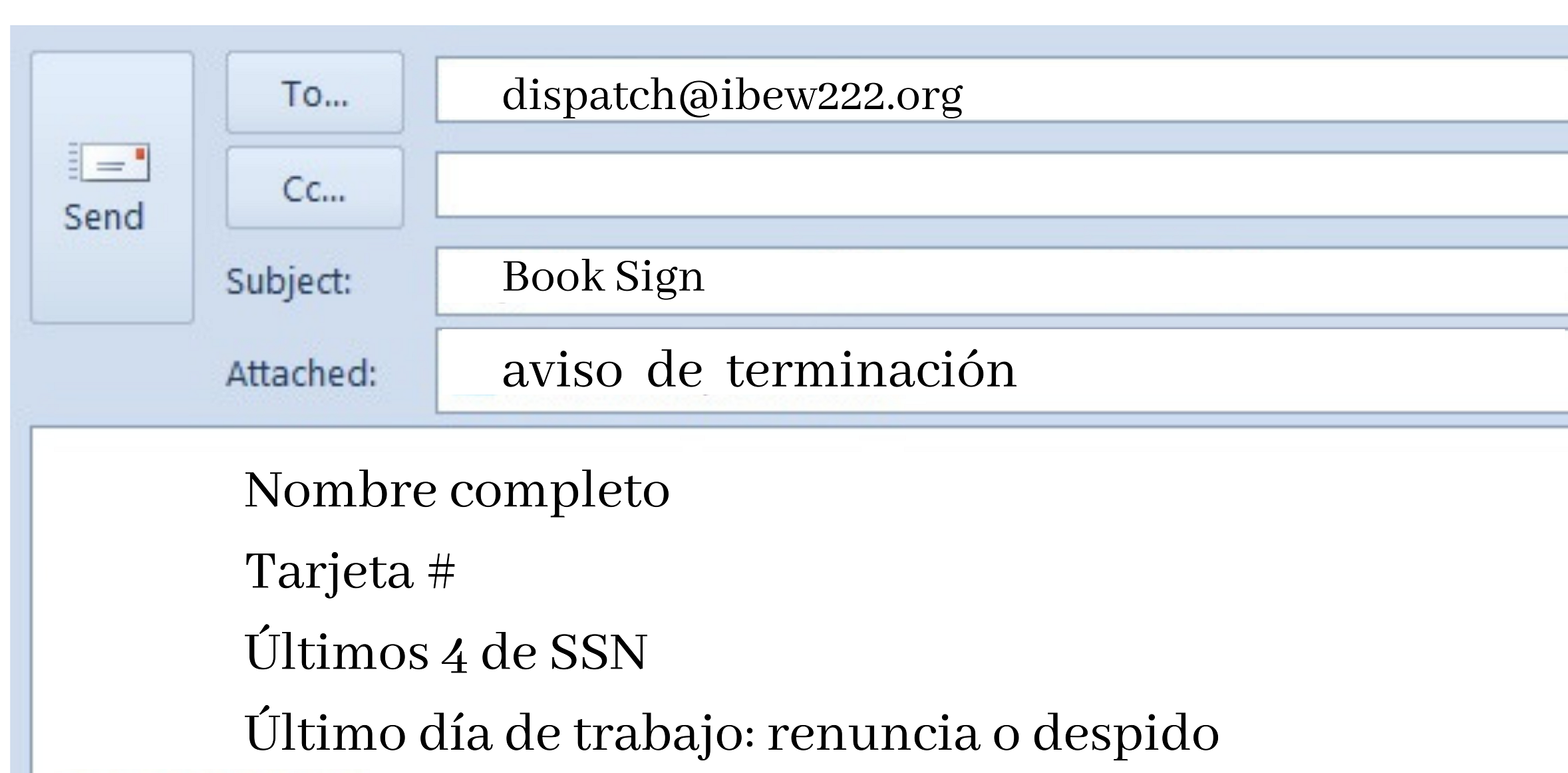 Envio de correo electrónico tan pronto como esté sin trabajo




Vuelva a enviar un correo electrónico entre el 10 y el 16 de cada mes
Junta de empleos Local 222
Visite la página de anuncios de trabajo de nuestro sitio web www.ibew222.org todoslos días de la semana después de las 4:30pm
¿Ve el trabajo que desea? Haga clic en el botón APLICAR y complete su información de contacto. Lassolicitudes cierran a las 9:00am. Si obtiene el trabajo ¡el despachadorlo llamará!
Page Last Updated: Aug 226, 2023 (11:49:30)